Endô Shûsaku's Silence
---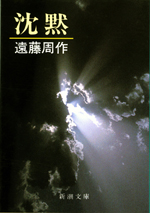 Endô Shûsaku (1923-96) hasn't been completely forgotten. True, after Ôe Kenzaburô won the Nobel Prize for Literature in 1994, critics, readers and translators alike focused more of their attention on Ôe's sobering, often violent works. Now it seems Murakami Haruki runs a monopoly on popular consciousness when it comes to Japanese novelists. Endô's novels, however, still have a steady, if not growing, appeal. Legendary American film-maker Martin Scorsese is filming an adaptation of Endô's masterpiece, Silence (chinmoku), for release in 2010. It will star Academy Award-winning actors Daniel Day-Lewis and Benicio Del Toro. Perhaps no greater nod to the novelist's greatness could have come from a Hollywood that increasingly looks to great literature for inspiration.
Silence covers a period during the Christian persecutions of 17th century Japan. A young Portuguese Jesuit is sent to Japan after receiving troubling reports about his mentor and his faith. When he arrives, he discovers an environment ripe for apostasy. Christians are in hiding, practicing in secrecy. Authorities are trying to root out the 'subversives' by forcing everyone to stomp on crude images of Christ. Those who do so shame themselves and their religion. Those who refuse face horribly violent consequences. What will the protagonist discover about his fellow Christians? Will he be forced to endure the same struggles? Could you betray what you believed in most?
Endô's works usually deal with questions of faith, God and hope in some way, but his treatment of such complex issues is hardly one-sided. Nor is he simply a Christian writer. Sometimes you may even wonder if a benevolent God exists in his novels. Perhaps the fate of mankind is left to mankind.
『沈黙』 遠藤周作
1994年に大江健三郎がノーベル文学賞を受賞してからというもの、読者・翻訳者ともに過激で沈鬱な大江の作品に注目し、片や一般大衆の人気はもっぱら村上春樹が独占しているが、遠藤周作(1923-96)は完全に世間に忘れ去られていないみたいだ。事実、遠藤周作の作品は未だ根強い人気がある。著名なアメリカの映画監督のマーティン・スコセッシは現在2010
年の公開に向けて、遠藤周作の大作
『沈黙』を鋭意撮影中だ。主演はアカデミー賞俳優のダニエル・デイ=ルイスとベニチオ・デル・トロ。近年、頻繁に文学作品に材料を求めているハリウッドにこうして選ばれるのは、なによりも遠藤の偉大さを物語らないだろうか。
『沈黙』の舞台はキリスト教徒の弾圧が起きる17世紀の日本である。師の信仰心の危機を聞き、若きポルトガル人イエスズ会教徒が日本を訪れる。しかし、宣教の地で彼が目にしたのは背教の空気が蔓延する状況だった。キリスト教徒は皆秘密裏にイエスを崇拝することを強いられ、「異端者」と認識された信者は踏み絵の試練を課せられる。恐れ多くも神なるイエスの写し身を踏めば自らの宗教と教祖を冒涜し、踏まなければ恐ろしい刑に処される。『沈黙』の主人公は、同じキリスト教徒の苦難を目の当たりにし、何を思うのか。彼が同じような境遇に置かれた場合、信仰心を捨てることは果たして可能だろうか。
遠藤周作の作品の多くは信仰心、神、希望のテーマを主軸に展開するが、その劇化の様は多岐に渡り、作品に複雑な奥行きを与えている。「キリスト教作家」と呼ばれながらも、遠藤周作の作品を読むと慈愛に満ちた神など果たして存在しうるのかと一瞬疑いたくもなるが、それは人間の運命は人間自身が切り開くべきであるという作家の信念の裏返しかもしれない。