Kurungabaa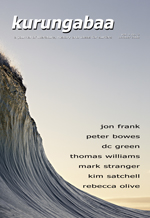 Australia seems to be a country with an endless amount of interesting things. Here's another from the land down under: "a journal of literature, history and ideas for surfers." When the journal "Kurungabaa" was originally conceived, someone cleverly quipped, "Do surfers read?" Well, not only do they read, they also write very intelligently and compellingly. We already knew they took amazing photographs and filmed gorgeous movies.
But this isn't just a journal for surfers. It's for anyone with an interest in the ocean, its shores and the cultures and customs that have grown up around them all across the globe. Although it's still feeling out its identity (as it's only on its third issue), the journal is socially and environmentally conscious. Printed on recycled paper, it's a non-profit publication supported by subscribers and donors. The editors, all surfers of course, also have scholarly backgrounds. Alex Leonard, in fact, received his PhD in Anthropology for a thesis on surf culture and history in Bali, and Clifton Evers his PhD in Gender Studies for a thesis on surfing and masculinity.
As the masthead explains, "'Kurungabaa' is a Dharawal word for the Australian pelican, chosen out of admiration for that handsome bird with its peculiar way of gliding low over the waves." Get yourself a copy and glide low over the text, artwork and beautiful photography. Its pages include diverse genres from essays to interviews, poetry to short stories. It is intelligent, thoughtful and satisfying. Submissions in that vein are also very welcome.
Website: www.kurungabaa.wordpress.com
Subscription & donation inquires:
Clifton Evers (+61) 02-9385-8531
Clifton.evers@unsw.edu.au


Subscription rates (international):
$60 AUD (postage & handling incl.)
Single issue: $15 AUD (P&H calculated by region)
オーストラリアには楽しいことが溢れている。で、オーストラリアからもう一つ面白いものを紹介しよう。今回ご紹介するのは「サーファーのための情報誌」 季刊誌"Kurungabaa"が企画された時は「そもそもサーファーが活字を読むのか?」と皮肉る意見もあったが、実際にはサーファーたちは活字を読むだけでなく、読者にアピールする内容のある記事を書くようだ。彼らはこれまでも素晴らしい写真を撮っているし、素敵な映画も作っている。
しかしこの雑誌はサーファーのための専門誌にとどまらず、海に関するいろいろな事、さらには世界各国の文化や風習といったものにまでその対象を広げている。まだ第3号が出たばかりで方向を模索中ではあるが、すでに社会問題・環境問題意識の高い方向性を打ち出しつつある。雑誌はリサイクル・ペーパーを使った、非営利のもので、その財源は読者の定期購読料と寄付金によって賄われている。全員がサーファーである編集者たちは同時に学識者でもある。アレックス・レオナルドはバリ島のサーフィン文化と歴史を研究して人類学の博士号を持っているし、クリフトン・エヴァースはサーフィンと「男性性」を研究してジェンダー研究の博士号を取得している。
同誌のマストヘッドによると、Kurungabaaとは、原住民のダラワル語でオーストラリアン・ペリカンを意味し、波間を滑るように低く飛ぶ、そのユニークな姿にちなんでこの雑誌はネーミングされた」とのこと。早速一冊購入して興味をそそる記事や美しいアートワークや写真を楽しんでみよう。エッセイ、インタビュー、詩歌、ちょっとした読み物など、知的でよく考えられた充実の内容だ。雑誌の趣旨に沿った投稿も大歓迎とのこと。
定期購読の申し込みおよび寄付金について:
クリフトン・エヴァース(+61)02-9385-8531


Clifton.evers@unsw.edu.au
年間購読料(海外):60豪ドル(郵送料と手数料込み)
一冊のみの購入:15豪ドル(郵送料と手数料は地域により異なる